NASUWT is calling on members to support the plight of teachers detained in Djibouti.

Omar Ali Ewado (pictured in the centre) and Ahmed-Kadar Nour (pictured on the left) lead a teachers union in the East African nation and were arrested on the 19th and 20th of March 2017 by the country's security services.

Omar has since been released but Ahmed remains imprisoned.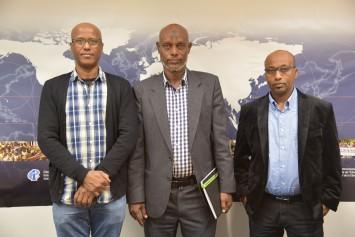 The authorities have not given any reasons for the arrests.

Education International, representing teacher trade unions around the world, is concerned for their physical and psychological well-being while in detention. Mr. Ewado had started a hunger strike in protest at his arrest.

These arrests are the latest episode in the ongoing harassment and repression of teachers and trade unionists seeking to exercise their legitimate rights and freedoms in Djibouti.

For many years, teacher union members and leaders have been targeted for arrest and suffered salary suspensions, harassment, forced early retirements or forced transfers.

Last year, Mr. Ewado, who is also President of the Human Rights League of Djibouti, was arrested for denouncing human rights abuses by the authorities.
What you can do
Please take a moment to call on the government of Djibouti to release Ahmed-Kadar and stop the persecution and harassment of teacher trade unionists and human rights activists.