"We are their teacher, their friend and we are their family sometimes."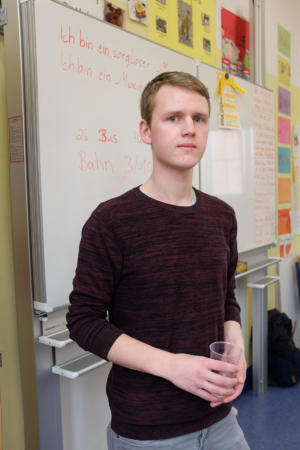 Jöran Drümmer's description of his relationship with the pupils at Findorff High School in Bremen, Germany, will strike a chord with teachers around the world.

The 19-year-old, who is doing a year's National Volunteer Service, talks with passion and enthusiasm about his role in supporting class teacher Mariam Leithe-Alkhazan, as she teaches her German preparatory class for refugee and migrant children.

Jöran and Mariam currently work with a class of 12 children who have arrived in Bremen with levels of German language that range across the spectrum from good to almost non-existent and they provide ongoing support to another ten who have progressed from the class.

Pupils are aged between 11 and 16 and as well as levels of fluency in German have differing ability ranges and are from a diverse range of countries and cultures.

Some of them have escaped wars in Syria and Afghanistan and are traumatised by their experiences, others have come to Germany from countries in Eastern and central Europe.

One teenager, Hamed, arrived from Afghanistan unaccompanied without his parents, having first spent a number of years in Iran, disrupting his education.

On the morning of a visit by a delegation of the NASUWT, Education International and Citizens UK, the children are tucking into a special breakfast of cheese and tomato and cheese and cucumber sandwiches, fruit juice and small chocolate treats.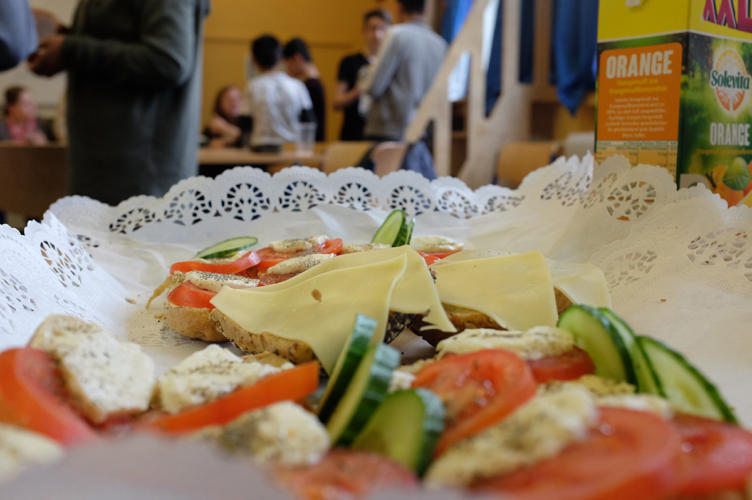 Here, children study in the class full time for a year whilst gradually joining other mainstream classes. Their individual timetables vary and eventually they have few or no lessons in Mariam's class until they are ready to join the rest of school.

Adapting to the German language is harder for some of the children and is often dependent on how much schooling they have had in their home countries as well as their own ability to learn.

Sisters Dzheina and Zaira have been in the class for just a few months after arriving from Chechnya and are finding it difficult to learn the language. It appears they are struggling to understand much of what is said in class and seem to communicate mainly with each other.

But with the support of this class, in time they will most likely be thriving in the way many of the others do, such as Azra, 15, from Macedonia.
She wants to study psychology and is about to go and to sit a maths examination. She will soon be studying for the German equivalent of A levels.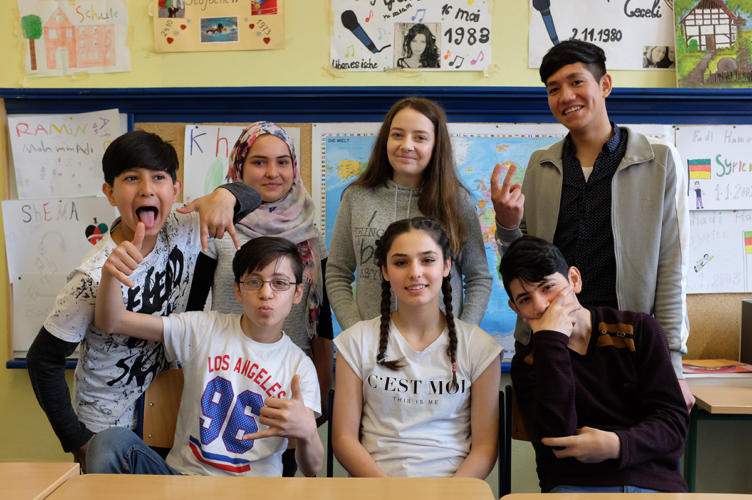 After three-and-a-half-years in Germany with her sister Aida, she is clearly thriving, fluent in German and helps her family with the language at home.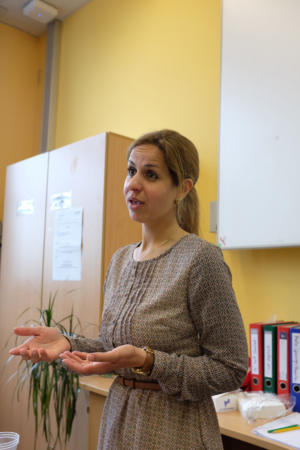 "I correct my mother, but never my father," she says smiling. Her teacher Mariam speaks with immense pride of Azra's progress and all of the children in her class: "To me, they are like my children. It is so nice for me to see their progress and how they are moving forward.

"I am important to them, but they are also so important to me. Three of my girls left with a diploma and we still stay in touch and I see how they are getting on in their lives."

Some 40 miles away in Bremerhaven at the Schule am Ernst-Reuter-Platz, we meet teachers Sibel Sari who teaches in a preparatory class and Christine Carstens who teaches in a class where some of the children have come from a German preparatory course.

At this school, the system is slightly different but with the same goal of providing a high-quality German education for the children. Pupils spend a year in Sibel's class learning German before moving into a class like that taught by Christine.

During our visit to Sibel's class, the children are learning words for hobbies, sports and pastimes. Sibel repeats many of her phrases as she reinforces the lesson with lots of smiles and encouragement.

Again in this class, the children are from a wide range of countries, including Syria, Afghanistan and also Bulgaria. The children's ages range from 11 to late teens, meaning Sibel and Christine have to take account of levels of ability and maturity in their teaching and pastoral roles.

Sibel said of the system at her school: "It works really well. The older ones look after the young ones, the younger ones annoy the big pupils.

"In terms of the curriculum offer, you have to differentiate more and then in terms of the topics that you teach, you have to work out if it is appropriate for the whole class.

"For example, teaching about issues that come from puberty, meeting people, going to parties and so on, you can't do that with 11-year-olds."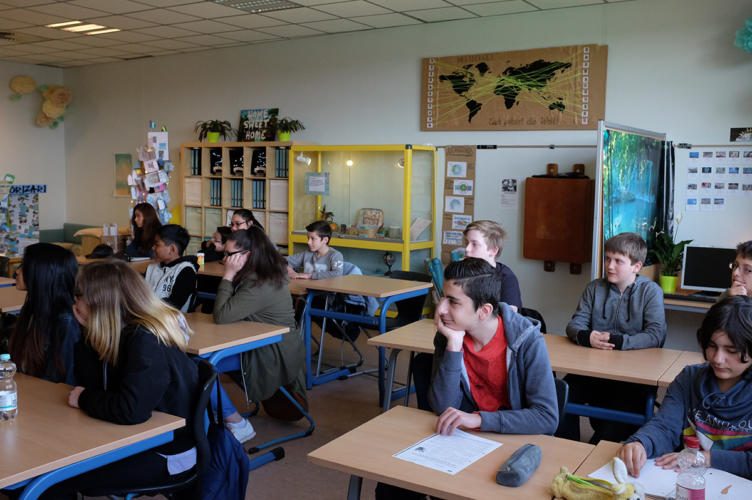 Asked further about the wide age differences often seen in classes, Christine said: "There are various reasons for that. Obviously, when they come into the regular classes from the preparatory classes, the language level is an issue.

"But also some of the kids we get from Syria or Bulgaria we try to match with the class that they used to be in.

"One of my students who is going on 16 didn't go to school in Bulgaria, so he went into first grade in German but he was quite old then.

"There is no point in putting a child in a class that matches her age group, but then she can't really follow what is happening."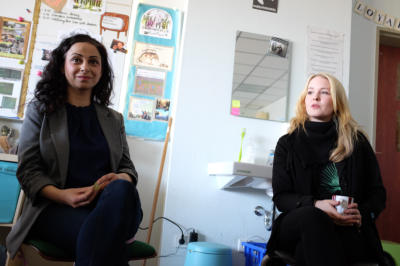 Both schools in the state of Bremen have very similar approaches to educating refugee and migrant children and both said the issue of resources was vitally important. Sibel gives a direct answer when asked what the school management and the state government could do to help her in delivering quality education to her children: "Double staffing in the classroom."

The German union representing all the teachers we met, the GEW, says that not enough resources are being made available by either the state or federal government. It is claimed there is often little special needs support, high levels of pupil turnover, vastly differing levels of ability and no formal state curriculum or guidelines to support teachers.

The difficulties faced by the education system due to the influx of refugees to Germany in recent years are stark. The GEW says schools were already struggling with the highest levels of child poverty in Germany alongside low levels of funding compared to other major German cities.

In 2015, around 12,000 refugees, including many unaccompanied children, arrived in the state of Bremen (population 675,000). Since then more refugees have settled in the state, combined with migrant children from poorer EU countries whose families have been attracted by better paid work and relatively affordable housing.
"We heard of one pupil who cannot bear to have water splashed on her face, as it brings back memories of her ocean crossing into Europe. And on more than one occasion, pupils talked about how they were beaten by teachers in the countries they have come from."
The response of the state government has been to expand teacher numbers, including by outsourcing jobs, for example, to the Stadtteilschule, a type of teacher employment agency. Currently, around ten per cent of the education staff in the state of Bremen are outsourced. But after union pressure, including the NASUWT's partners in the GEW, almost 100 teachers have been brought back in house this summer.

Some teachers working for agencies earn only around €900 a month for 25 hours a week - about a third of the wages of an experienced class teacher employed by the state government. Others can earn as much as two thirds of the wages of a state class teacher. They have inferior working conditions and are often employed on temporary and insecure contracts.

At Luther Primary School in Bremehaven, Marita Rohmer Hayer is one of the teachers working for AWO, an outsourcing organisation that provides teachers to the school.

Marita is a fully qualified teacher and has been working in her current role as a German language teacher with children aged between six and ten for the last five years.

She is a trained sports teacher and often uses PE lessons to reinforce the German language the pupils are learning. She works closely with her Turkish colleague Ismail Don, one of two social workers in the school.

In common with all the teachers we met, both have to support sometimes very traumatised children or children who have very chaotic home lives, living in overcrowded conditions.

During our visits we heard of one pupil who cannot bear to have water splashed on her face, as it brings back memories of her ocean crossing into Europe. And on more than one occasion, pupils talked about how they were beaten by teachers in the countries they have come from.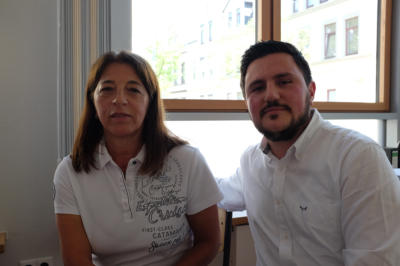 Back at Luther Primary School, Marita said children's educational experiences or lack of in their home country and also parental involvement have big impacts on their ability to learn German.

She said: "When children have problems in their first language, perhaps their vocabulary is already low, then it is difficult to explain things, as they don't know the words or terms in their first language and this makes it very difficult.

"Some pupils who have not been to school before are perhaps nine or ten years old but unable to write, so they have to be taught differently to the other children."

Ismail added: "In Arabic, we write from right to left and this is very new for the children to be able to cope with writing in German from left to right. There are many difficulties and challenges for these kids to overcome."

In Bremen, it seemed that among the refugee populations there are qualified teachers desperate to work who could help ease the pressure in the system but are being stifled by bureaucracy to get jobs.

Many are forced to accept outsourced roles as classroom assistants or private language tutors to make ends meet and they believe they have to jump through endless hoops to get jobs as full-time class teachers.

It is claimed the state of Bremen rarely recognises foreign teaching qualifications among refugees, requires an incredibly high level of German fluency and often requires experienced teachers from abroad to study for the equivalent of a degree and then a postgraduate teaching qualification, which can take up to five years.
"It is very hard to find a job if you are not a graduate of a German university here. You have to study at least three years here to have a chance, but I am fully qualified."
Mohammad Khair, a refugee teacher from Syria, spoke of his frustration at being told that without all his teaching certificates he cannot get a job.

He said: "My father is still in Syria, but he can't go to Damascus University to get copies (of the teaching certificates). If you want to get the papers from the university, you have to bring documents from the Syrian Army to show you have no problems. I can't do that as I am here.

"The officials here don't really understand what war is. They know there is a war on, but think it is easy to get the papers from the university. We can't get this: we are here now and this is a massive problem for Syrians.

"It is very hard to find a job if you are not a graduate of a German university here. You have to study at least three years here to have a chance, but I am fully qualified."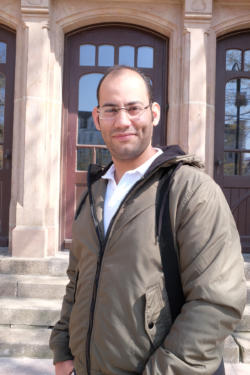 The GEW is working hard to highlight the issues around educating refugee children and is working on a project supported by Education International called Teachers Organising for Quality Education for Refugees. They have been carrying out interviews with teachers in schools to ensure their voice is heard as they build up an evidence base to present to the state government.

Nick Strauss, a branch executive member of the GEW and a humanities and English teacher in Bremehaven, said: "Every day in schools, teachers are delivering quality education to tens of thousands of newly arrived refugees and migrants.

"Teachers' voices need to be heard and governments need to take action if we are to ensure we are providing a quality education for all young people."