LGBTI Teachers' Consultation Conference
The 2022 LGBTI Teachers' Consultation was held on Saturday 11 June at Park Regis, Birmingham.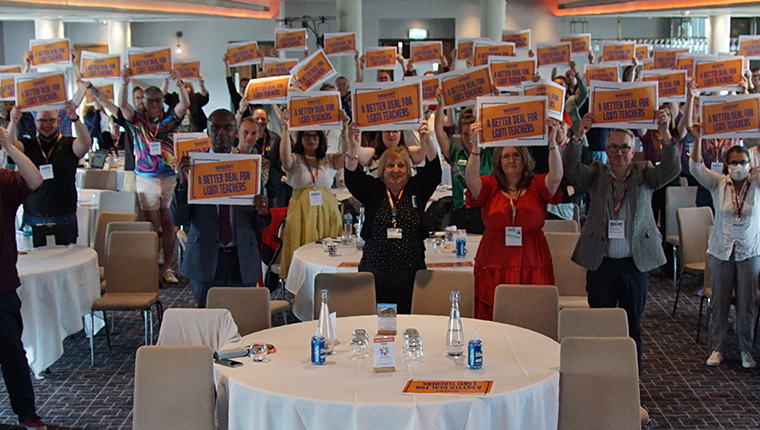 ---
Highlights from our 2021 LGBTI Teachers' Consultation Conference
The first virtual NASUWT LGBTI Teachers' Consultation Conference took place in February 2021. The Conference theme was 'What next for the LGBTI rainbow?'

LGBTI teachers from across the UK came together to hear from a number of keynote speakers and to share their experiences, particularly of life and work during the Covid-19 pandemic. The Conference provided a safe space for LGBTI members to network and to share their views and experiences.

Members attended webinars on:
The Gender Recognition Act 2004 - what's changed and what's still left to fight for?

Intersex Equality: Ethical inclusion, support, and wellbeing; and

LGBT-inclusive RSHE.
In a fascinating lunchtime panel session, the Conference was addressed by Lord Michael Cashman, Wes Streeting MP, Dudu Nkosi, of the South African Democratic Teachers' Union, Valentino Vecchietti, intersex human rights campaigner, Chay Brown, Education Programmes Officer - Stonewall, and Holly Harrison-Mullane of Amnesty International. The panel also answered members' questions on 'Where next for the LGBTI rainbow?'

The Conference heard from Dr Patrick Roach, NASUWT General Secretary, about the disproportionate negative impact of Covid-19 and enforced isolation on LGBTI people and the increased intersectional negative impact on LGBTI members with other protected characteristics.

The lack of ability to meet with, and get support and solidarity from, other members of their community has had a damaging impact on the mental health and wellbeing of LGBTI people, members at the Conference said.
82% said that successive lockdowns had had a worsening impact on their mental health and wellbeing;

71% said the extended periods of isolation during the pandemic have had a disproportionate impact on LGBTI people;

23% said they have had to seek specialist support for their mental health during the pandemic;

36% said they think homo/bi/transphobia had got worse during the last 12 months during the pandemic. Many members stated that they had noticed a rise in prejudicial and hateful language being used online in the last year.
The Conference called for:
action to tackle homophobic, biphobic and transphobic language and hate crime, online and in the workplace;

more national and local networking opportunities to help reduce the feelings of isolation felt by so many;

unconscious bias training at all levels of the Union;

more awareness raising and training on intersex equality;

more local support for LGBT events, such as LGBT History Month and local/regional Prides, when it is safe for them to recommence; and

more national campaigning on LGBTI issues.
Comments from the Conference included:
"I've noticed a LOT more phobia online and it seems to be coinciding with frustration with lockdown."

"The move towards online interaction has empowered bigots."

"I'm working with a lot of young people who have recently come out, and here's a lot more discussion in schools about LGBTI issues. Phobic language is a worry, with conflict between different groups of differently identifying young people."

"Homophobia, when I returned to school in September, directed towards myself was worse than ever. I started keeping a diary and on some days there were as many as four incidences of homophobic language/taunts/comments."

"Has the NHS using the rainbow symbol affected LGBTI visibility?"

"My local union has been great at networking and having informal chats to keep in touch with us."

"I said last March that whatever happened, teachers would get blamed. It makes me angry that the Government isn't doing more to help us."

"There needs to be more done to raise the profile of trans teachers. We are few in number but unless we are represented, how can schools move forward? Positive trans role models need to be encouraged."

"This Union has helped me enormously in my journey of coming out and I will always be thankful for friendships and acceptance from people In the Union. Of course, there is always more to do though…"
Next steps
The issues raised at this Conference will be taken forward as part of the Union's work and campaigning on LGBTI equality.
---
Your feedback
If you require specific advice from us, please use the details on our Contact Us page.

We love reading all your feedback because we always want to be improving the website, but all comments you leave below are processed anonymously.