Recruitment is essential to the future and continued strength of the NASUWT and each year the NASUWT aims to recognise the exceptional contribution made by our members with the Recruitment Awards presentation ceremony at the NASUWT Annual Conference.

Further information about 2020 nominations will follow. Read about previous awards below.
2019 activists receive Recruitment Awards at Annual Conference in Belfast
Best Communication or Communication Strategy Award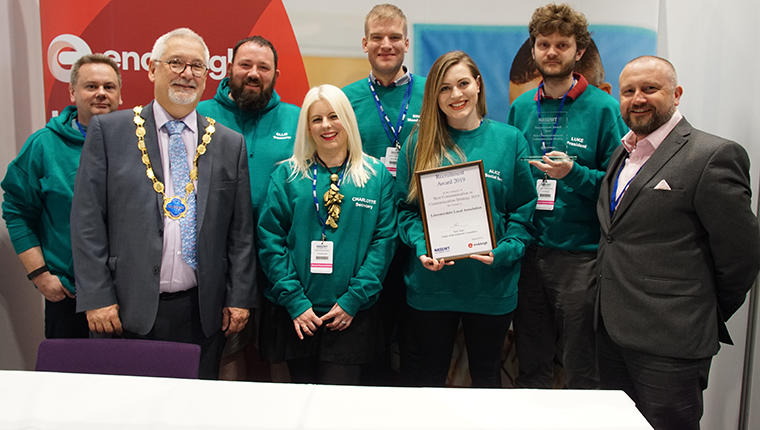 The winner of Best Communication was the Leicestershire Local Association
The Best Communication or Communication Strategy Award for a recruitment film lasting less than three minutes was presented to Leicestershire Local Association in 2019. The video was put together at an equality event for members and focused on the key principles of belonging to a collective organisation. The Recruitment Committee was impressed by the quality of the finished video, saying it was clear to see how it could be used for recruiting members into the NASUWT.
Best Initiative/Campaign to Engage Under-represented Groups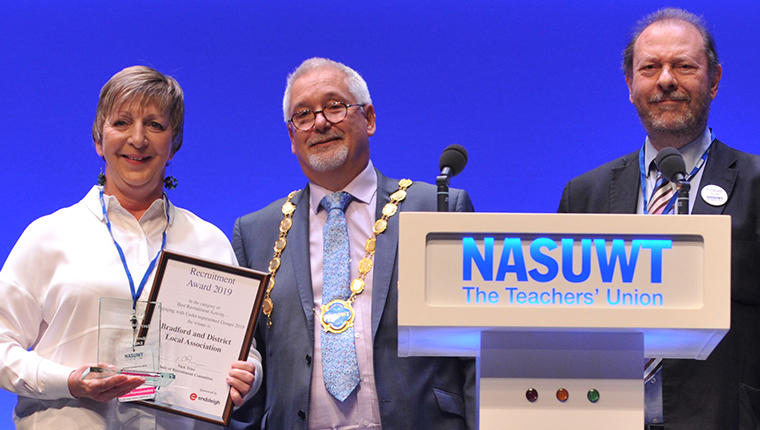 Wendy Shuttleworth receives the Award for Best Initiative/Campaign to Engage Under-represented Groups on behalf of Bradford and District Association
The winner of the award for Best Initiative/Campaign to Engage Under-represented Groups went to Bradford and District Association who had reinvigorated their local meetings. This Association regularly had only a handful of members attending local meetings. After consulting with members about the meetings, the LA Secretary found that having a licensed venue was creating a barrier for many members and combining this change with some focused organising led to the Association regularly having meetings of more than 30 members, the majority of which were BME members. This organising activity resulted in some BME members joining the Executive Committee and becoming Workplace Reps.
Recruiter of the Year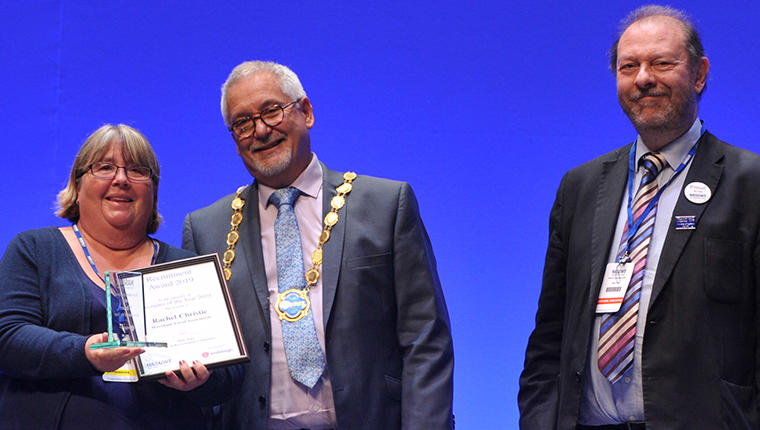 Jo Davies accepts the Recruiter of the Year Award on behalf of Rachel Ann Vanessa Christie
The members of the Recruitment Committee all agreed that the nominations this year for the Recruiter of the Year were particularly strong. Therefore, the Committee were keen to commend the work of Charlotte Bennett from the Leicestershire Local Association who had recently become a Workplace Representative and managed to more than double the membership in her school in that time, particularly notable as it is an independent school.

The Award for the Recruiter of the Year went to an individual who is a Workplace Representative in an FE college. She increased membership across all four sites of the college and by leading a dispute on pay and pay progression, this Rep managed to increase membership to more than 70 in a relatively short period of time.

The Recruitment Committee were impressed with the growth in membership in an area traditionally not easy to organise in for the NASUWT.
Previous year's winners
2018 winners presented with their awards at Annual Conference in Birmingham
2017 winners presented with their awards at Annual Conference in Manchester