Big Question Survey 2023
Thank you for participating in the 2023 Big Question Survey. The survey is now closed and we are working to collate the information which will be published in the 2023 Big Question Survey Report.
Big Question Survey Report 2022
We've pulled out some of the key findings of the 2022 Big Question survey below.

You can download the full Big Question Survey Report 2022 on the right/below or use the Big Question Survey Tool on our Explore the Data page which allows you to delve into the results in greater detail.
Key findings
Teachers are feeling under pressure, undervalued and overworked and this is having a significant impact on their view of their profession. Only 14% of respondents said they would recommend teaching as a career.

Our members are proud of the work they do and feel they are valued by their own school community, but 73% have seriously considered leaving their current job and 66% have considered leaving the teaching profession altogether because of the unremitting pressures they are facing.
Job satisfaction
Only 14% of respondents said they would recommend teaching as a career, despite:
69% saying yes to My work is valued by parents

68% saying yes to I am respected as a professional

68% saying yes to My classroom expertise is valued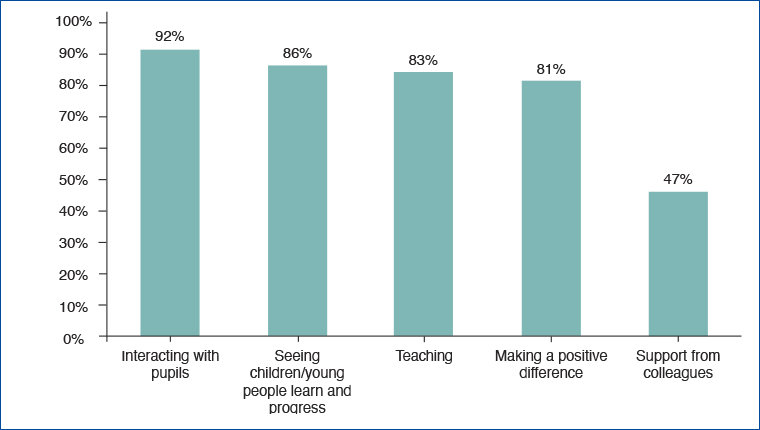 Some of the underlying reasons for this apparent mismatch:
86% agreed that I work too hard for too little reward

63% agreed that I feel constantly evaluated and judged

57% agreed that I am held responsible for problems I have no control over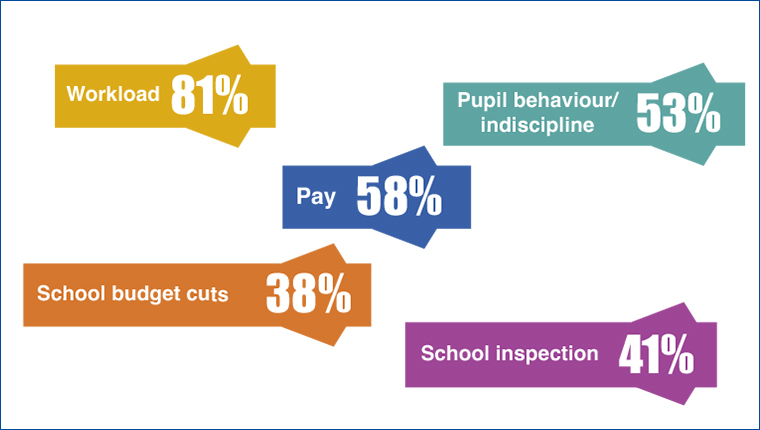 Pay
87% reported being worried about their financial situation

84% think teaching is not competitive with other professions

78% believe their pay is not commensurate with their skills
Pupils
96% say their pupils have mental health challenges

77% believe that appropriate support is available

80% reported more than a quarter of their pupils have lost ground academically over the last 12 months
Working practices
69% carry out face-to-face teaching only

27% use a combination of face-to-face teaching and remote teaching of some pupils, but only 2% who teach remotely have been given additional time to prepare

50% agreed/strongly agreed that they are made to feel they are to blame for poor pupil behaviour
Workload
59% say workload has significantly increased

68% report an increase in time spent on clerical tasks, 66% on pastoral care, and 58% on data and assessment

69% say that 'constant change' disempowers them professionally
CPD
88% of teachers in England said that QTS is important

28% think that their professional judgement is respected in their school

91% believe teachers should have a contractual entitlement to CPD in working time
Health/wellbeing
82% have experienced more workplace stress

81% believe that the job has adversely affected their mental health

83% experienced anxiety

79% said they lost sleep, and

52% reported adverse mental health outcomes were the result of workload

61% believe the job has adversely affected their physical health

73% suffered headaches because of work

50% reported back pain caused by work

40% experienced work-related neck pain
These detrimental impacts mean that teachers are too tired (84%), worn down (69%), and frustrated with the pressure on them and their loved ones (73%).

That's why our members are calling for a Better Deal for Teachers.
Big Question Survey purpose
The NASUWT's Big Question Survey is the only annual, national survey of teachers and headteachers and your responses provide a unique insight into the challenges you face throughout the year.

We are acutely aware that many of you already support the NASUWT by completing surveys, but this remains the most important one for our Union's vital work.

With your help, we gather crucial information on the difficulties faced by teachers, students and families and their impact upon education and wellbeing.

The Big Question time series offers the only nationally available dataset that tracks trends in teachers' and school leaders' opinions over time by collecting the views of teachers and school leaders across the UK, the Channel Islands and Gibraltar, on a range of subjects, including:
pay and pensions;
pupil health and wellbeing;
pupil behaviour;
bureaucracy and workload;
teaching quality;
your health and wellbeing; and
job satisfaction.
Demonstrating the developing views of teachers and school leaders and the issues that impact their work, the survey is a unique opportunity to highlight the changing opinions of teachers and school leaders over several years.

By completing the Big Question Survey, you help to provide robust evidence for the NASUWT's national campaigns and lobbying of governments and employers to ensure teachers receive the support they deserve.
Previous Big Question survey reports
As part of the Big Question 2021, the NASUWT worked with the Open Data Institute (ODI) to record the experience of teacher's in response to the pandemic. You can read the report and see the data on the ODI web page Data on teachers' lives during the pandemic.

You can download reports of previous years' surveys on the right/below.