Advice on use of e-Membership
We have made some necessary changes to our e-Membership portal that will enable us to work to be compliant with GDPR and develop the system as our activists require. We will continue to make changes to ensure compliance with the new legislation.

Access e-Membership

The initial phase has been to improve security and in this respect we have needed to move the system to a new platform. The look and feel of the system has changed, but the functionality has remained the same. This now enables the system to be used on a wider range of devices with more ease (including mobile devices and tablets). Instead of the menu structure being on the left-hand side of the page, there are now dropdown menus at the top of the page.
Members
To view the different sections of your membership record, click on the My Pages dropdown menu and select the details you wish to view/edit.
Activists
If you are a Union activist with rights to view records of members in your location and have signed a non-disclosure agreement, you will have an additional My Organisation dropdown menu through which you can search for members and schools as well as generate reports, labels and template letters.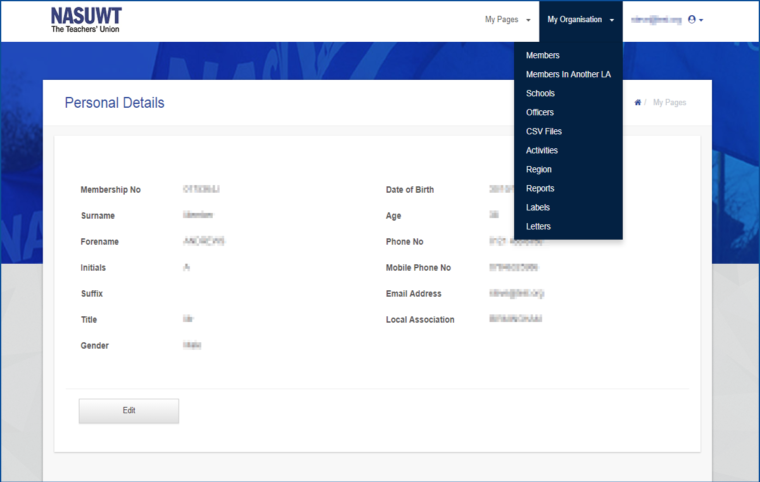 To improve the search facilities for Union activists, the search fields are now grouped into categories accessible by clicking on the appropriate tab.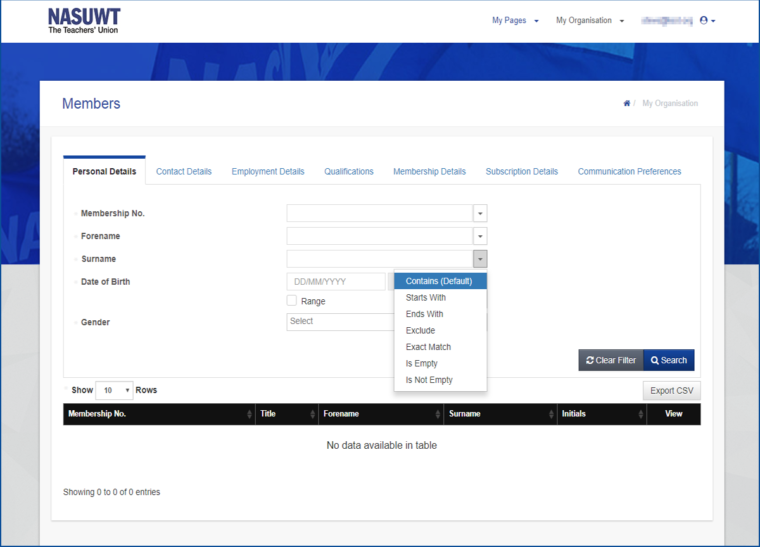 In order to improve the search functionality, at the end of fields there is a dropdown menu to further restrict the search results produced, date fields now have a calendar from which you can select the date, and fields with an associated list (you will see the word Select in these fields) produce a menu of possible search criteria.

There are also fields containing the instruction Start Typing.... When you type into these fields, possible search options will appear. One example of this is the Schools field, which will generate a list of schools in your area which contain the text you are typing.

To improve performance, it is not possible to do a blank search with no fields populated. If you wish to search for all members in your Local Association, select the Employment Details tab in the members search area and select an option in the LA field.
Logging in
If you are already logged into the website, you can access e-Membership at the link below. If you are not logged in, clicking on the link below will direct you to a login page from where you will be redirected to e-Membership.

Access e-Membership
---