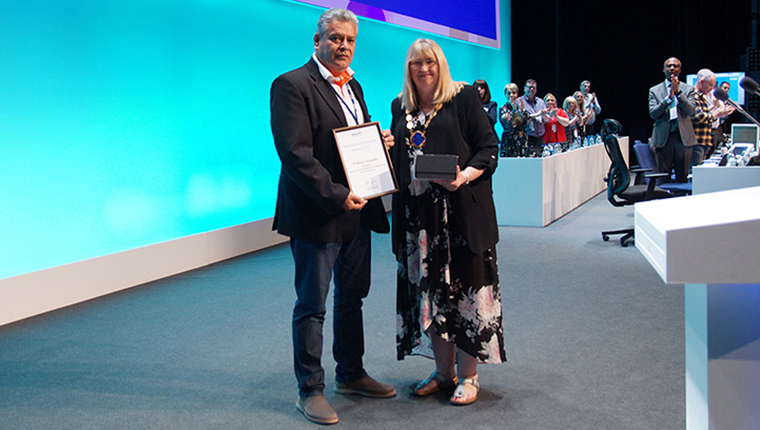 The 2022 International Solidarity Award was presented to Colombian teachers' trade union FECODE.

Colombia is one of the most dangerous countries in the world to be a trade unionist and activists face imprisonment, death and persecution for standing up for their labour rights.

Addressing the Conference, FECODE President William Velandia said he and his colleagues are continuing to fight to defend public education.

He said: 'The Colombian Government sees us as an enemy because we are standing up for the education system.

'International Solidarity gives us so much strength and helps us. But we are a target for our enemies who have hatred for teachers.

'We defend public education because we see it as a key strategy in fighting poverty, defending unity and developing critical thinking. We continue to see education as the route to transform people so that people can transform the world.'

To a standing ovation, Mr Velandia said, 'This award is an honour and it is recognition of all the teachers who have lost their lives. Stay strong, because as teachers we can make the world a better place and change lives.'
What is the International Solidarity Award?
The NASUWT International Solidarity Award recognises the bravery and commitment of individuals around the world who work tirelessly to promote human rights and to defend the rights of teachers.

The annual Award highlights and celebrates the commitment of individuals to the trade union values of solidarity, equality and democracy and to challenging violence, injustice, bigotry and hatred.

The NASUWT makes the Award in recognition of the work of an individual who has made an important contribution to education and human and trade union rights.

Recipients of the NASUWT International Solidarity Award are, by their nature, educators: they embody the moral purpose of teachers in seeking to create a better future for children and young people, free from fear, injustice, bigotry and hatred.

The seven guiding principles for conferring the International Solidarity Award recognises the contribution of individuals to:
defending human rights
defending the trade union rights of teachers
campaigning for quality education for all children and young people
promoting values of solidarity, equality and democracy
teaching
challenging violence, injustice, bigotry and hatred
working in countries outside the United Kingdom