International Solidarity Award Holder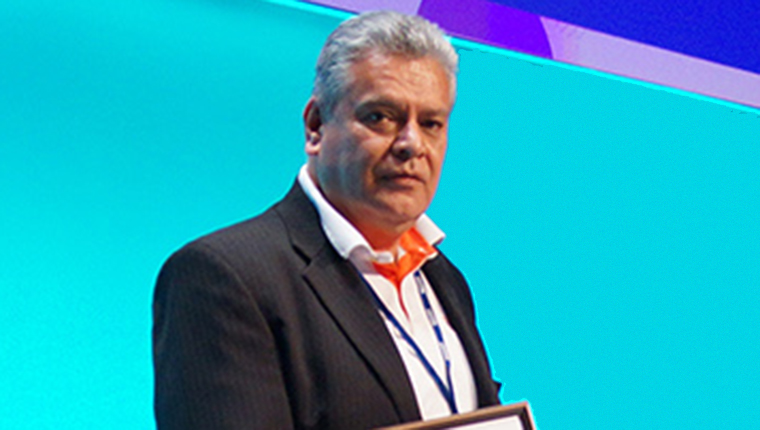 The annual NASUWT International Solidarity Award is a powerful tool for raising the profile of international campaigns and putting the spotlight on those countries where the rights of teachers and unions are being denied.

It recognises the bravery and commitment of individuals around the world who work tirelessly to promote human rights and to defend the rights of teachers.

The Award will continue to highlight and celebrate the commitment of individuals to trade union values of solidarity, equality and democracy and to challenge violence, injustice, bigotry and hatred.

The International Solidarity Award is presented at the NASUWT Annual Conference.
Guiding principles
The criteria for entries to the Award:
Defending human rights
Defending trade union rights of teachers
Working for quality education
Demonstrating values of solidarity, equality and democracy
Teacher/educator
Challenging violence, injustice, bigotry and hatred
Working in countries outside the UK
Award winners 2013-2021
Fung Wai-wah, President of the Hong Kong Professional Teachers' Union

The 2021 International Solidarity Award was presented to Fung Wai-wah, President of the Hong Kong Professional Teachers' Union (PTU) at the Union's Annual Conference for his part in the struggle for academic freedom and freedom of association during the continuing battle for Hong Kong's democracy.

Raymond Basilio, Alliance of Concerned Teachers (ACT), 2020

The 2020 Award was presented to Raymond Basilio, who has been a vocal advocate of the right of all children to quality education and the rights of teachers, despite being subject to state-sponsored threats and harassment.

Roberto Baradel, Argentinian Teachers' Union, CTERA, 2019

The 2019 winner of the Award, Roberto is a key advocate and campaigner for the rights of teachers and quality education. Despite threats against himself and his family, Mr Baradel has refused to be silenced in his struggle to defend teachers and students facing oppressive and severe treatment in Argentina.

Esmail Abdi, Iran Teachers' Trade Association, 2018

Esmail received the Award in recognition of his commitment to fighting for the rights of teachers in Iran. He received a six-year prison sentence for merely organising peaceful protests against the regime in Iran. He has committed no crime and his sentence is recognised by Amnesty International as an attempt to silence him.

Mahdi Abu Dheeb, Bahrain Teachers' Association, 2017

Mahdi received the Award after his release from prison in 2017. He had been jailed in 2011 by the Bahraini authorities for simply exercising his right to freedom of assembly and demanding reforms to the education system in Bahrain. He was subjected to repeated physical and mental abuse and torture during his incarceration.

Kamuran Karaca on behalf of Eğitim Sen, 2016

The Award was given to the Turkish teachers' union in recognition of its determination to continue to fight for trade union and human rights and oppose all forms of religious extremism. Eğitim Sen was also given the Award in recognition of its humanitarian work to support refugees, including Syrian and Iraqi children and young people in Turkish refugee camps.

Bak Ok-Ju on behalf of the Korean Teachers' Union, 2015

The KTU has been the subject of various forms of harassment by the South Korean Government since it was founded in 1989 and in 2013 it was de-registered by the Government in breach of international standards. Its President was arrested and detained the same year. The Award recognises these struggles and KTU's ongoing struggle for trade union rights for South Korean teachers.

Ahmed Jassam Salih, Iraqi Teachers' Union, 2014

Ahmed's immense courage and bravery to defend the human and trade union rights of teachers in Iraq was recognised. Three of his brothers have been murdered since 2008 and despite threats to his own life, he has travelled extensively throughout Iraq to build and develop the ITU. He has also played a leading role in supporting women teachers to play an active role in the union.

Jalila al-Salman, Bahrain Teachers' Association, 2013

Jalila's long struggle for justice in Bahrain was recognised by the Award. She was jailed, along with BTA President Mahdi Abu Dheeb for organising peaceful protests, and held in solitary confinement, where she was subjected to torture, sexual assault, beatings and degrading treatment by the security forces and prison authorities.