The NASUWT has been campaigning on behalf of Iranian teacher trade unionist Esmail Abdi since he was imprisoned in 2015 for committing national security offences after simply organising peaceful trade union protests.

Esmail was sentenced to six years in prison. The charges stem solely from his legitimate union work, including organising peaceful demonstrations in protest against poor wages, the inadequate education budget, and the imprisonment of teacher trade unionists. He was also charged with associating with Education International, the global union for teachers. His trial was grossly unfair: he was denied access to a lawyer of his choice during the entire investigation and his lawyer was not allowed to review his court file before the trial.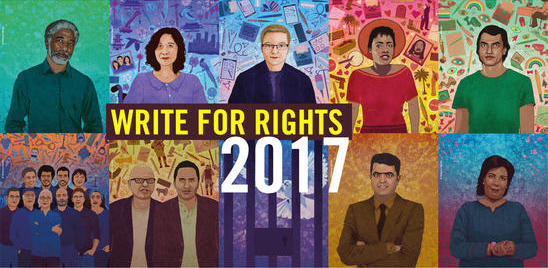 Amnesty's annual 'Write for Rights' campaign this year highlights a number of people, including Esmail, leader of the Tehran branch of the Iranian Teachers' Trade Association.

The campaign, which runs to the end of December, encourages as many people as possible to send messages of support to those who have suffered injustice and to campaign for justice for them.

The NASUWT/Amnesty International campaigns seek to quash Esmail Adbi's conviction and call upon the Iranian authorities to allow trade unionist to carry out their legitimate activities defending workers' rights without fear of harassment or imprisonment.

The 'Write for Rights' campaign has had notable successes in the past at putting the spotlight on human rights abuses: last year alone saw three people released from prison in Laos and Israel following emails being sent from ordinary people to the respective authorities.

Your email can make a difference!
What you can do
Visit the 'Write for Rights' campaign and write a letter both to Esmail and his family pledging your support.
Write to the Iranian Head of the Judiciary to appeal for the quashing of Esmail Abdi's conviction:
Head of the Judiciary Ayatollah Sadegh Larijani
c/o Public Relations Office
Number 4, Deadend of 1 Azizi
Above Pasteur Intersection
Vali Asr Street, Tehran, Iran