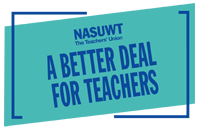 Teachers are facing multiple attacks on their pay, their workload and their wellbeing.

Unsustainable rises in working hours, pay freezes in England and inadequate pay offers in Northern Ireland and Scotland, and massive adverse impacts on teachers' mental health are creating anger in the profession after teachers have been 'right in the eye of the storm' for two years.

Our children's potential to contribute positively to the future of our society and our economy is directly linked to the hard work, dedication and professionalism of our teachers. Every child from every background can develop a passion for education and deserves to realise their goals and ambitions.

But teachers are angry and demoralised.

The NASUWT is demanding intervention from the Government to secure a better deal for teachers as part of a range of measures needed to ensure the continued support of the profession.

You can help to deliver real progress towards reinstating fair pay, a reasonable workload and peace of mind for teachers.
Join the campaign
If you're not already a member, join today and your first six months are FREE

If your colleagues are not members, ask them to join too - and earn rewards

Tag us in your social media tweets and posts to amplify our message:
---
---
Your feedback
If you require specific advice from us, please use the details on our Contact Us page.

We love reading all your feedback because we always want to be improving the website, but all comments you leave below are processed anonymously.