Annual Conference 2018
ICC, Birmingham, 30 March to 02 April

Follow #NASUWT18 on Twitter

The NASUWT, the Teacher's Union, holds its Annual Conference to establish NASUWT policy on issues affecting the working lives of teachers, education in the UK and internationally, and internal Union matters.

Annual Conference is held at venues throughout the UK from Good Friday to Easter Monday.

Annual Conference 2018 took place at the International Convention Centre, Birmingham from 30th March to 2nd April 2018.
Day 4 Monday
Pension Age - CARRIED as AMENDED
The National Pay Structure - CARRIED
Funding for Special Schools - CARRIED as AMENDED
Violent Pupils and Risk Assessments - CARRIED as AMENDED
Transforming the Culture of Teacher Employment - CARRIED
Time for Teaching and Learning Responsibility Posts - CARRIED
Malicious Allegations - CARRIED
Transparency of Academy Pay and Finances - CARRIED as AMENDED
Day 3 Sunday
Motions
Teacher Retention Crisis - CARRIED
Recruitment Awards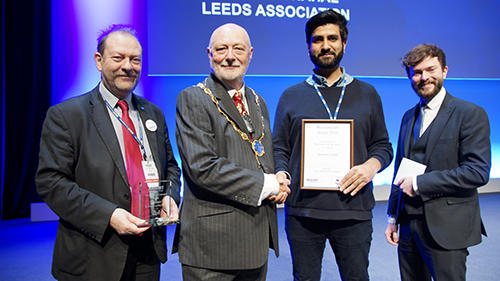 Harjinder Nahal, Leeds Association receives Recruiter of the Year Award 2018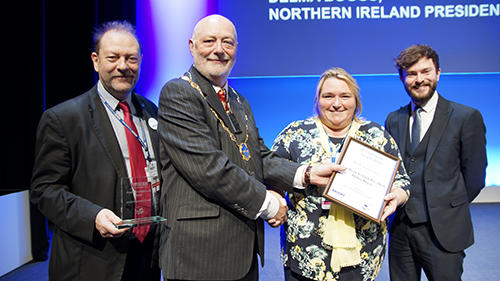 Northern Ireland President Delma Boggs receives Best Communication Award 2018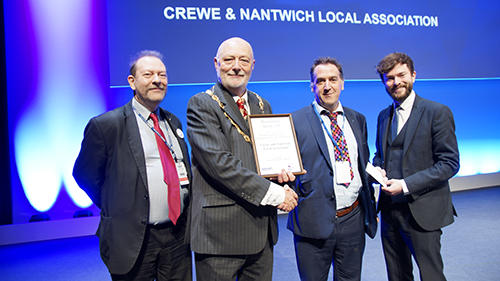 Crewe and Nantwich Local Association receive Best Activity for Engaging Under-represented Groups Award 2018
Health and Safety Award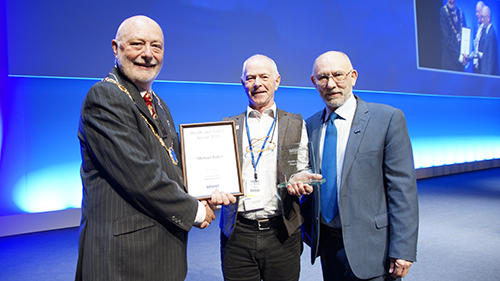 Michael Baker, joint winner with John McKenna, receives the Health and Safety Award 2018 from NASUWT President Dan McCarthy and National Executive Member Russ Walters
Motions continued
2(b) motion - Securing World-Class Education For All - CARRIED
Class Size Really Does Matter - CARRIED as AMENDED
Fringes
Cracking the gender pay gap - what needs to be done?
Zimbabwe - life after Mugabe
Motions continued
School Funding Crisis - CARRIED as AMENDED
International Solidarity Award
Dr Patrick Roach, NASUWT Deputy General Secretary, addressed Conference to pay special tribute to Roberto Baradel, leader of Argentine sister union CTERA, and announce Esmail Abdi, Iranian Teachers' Trade Union ITTA, as winner of the International Solidarity Award 2018.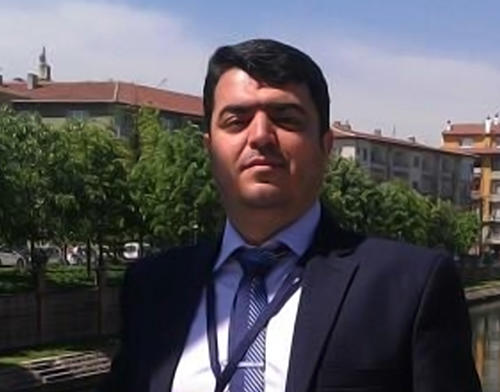 Esmail Abdi, Iranian Teachers' Trade Association (ITTA)
Motions continued
2(c) motion Northern Ireland - CARRIED
The Impact of Curriculum Reform - CARRIED
Good Practice in Flexible Working - CARRIED
Workplace Bullying - CARRIED
Day 2 Saturday
NASUWT Annual Report to Conference 2017
Motions
Teachers' Mental Health and Wellbeing - CARRIED
2(c) Motion: Wales - CARRIED
Fringe meeetings - lunchtime
Inspection: myths and facts
The future of childhood - what will it be like to grow up in the 2020s?
Motions continued
Public Sector Pay Cap - CARRIED
TUC Fraternal Greetings
TUC General Secretary Frances O'Grady addresses Conference.
Young Activist Award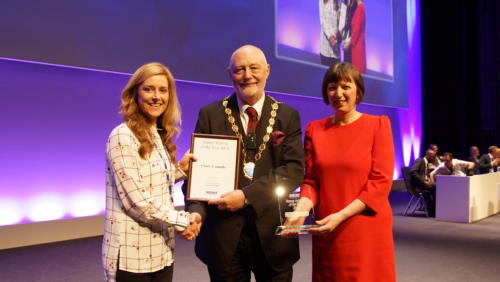 Claire Connolly is presented with the Young Activist Award by guest speaker TUC General Secretary Frances O'Grady and NASUWT President Dan McCarthy
Motions continued
2(c) Motion: Scotland - CARRIED
Discrimination Against Experienced and Older Teachers - CARRIED
Monitoring Practices and the Micro-Management of Teachers - CARRIED
Mental Health First Aid for Children and Young People - CARRIED
Misuse of School Funding - CARRIED as AMENDED
Fringe meetings - evening
The future of teaching - what will schools look like in the 2020s?
Asbestos in schools - the hidden killer
Day 1 Friday
President's Induction and Inaugural Address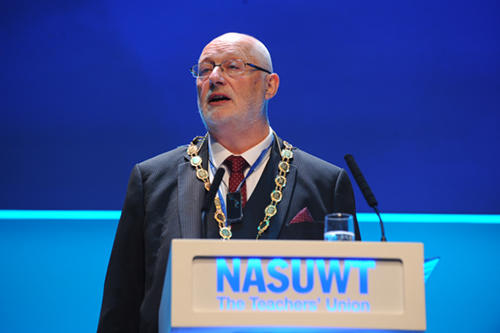 Dan McCarthy address Annual Conference 2018 as he assumes office as President for 2018/19
New Officers
2018/19 President Dan McCarthy introduced the newly elected
Senior Vice-President - Dave Kitchen
Honorary Treasurer - Neil Butler
Junior Vice-President - Michelle Codrington-Rogers
Ex‑President - Fred Brown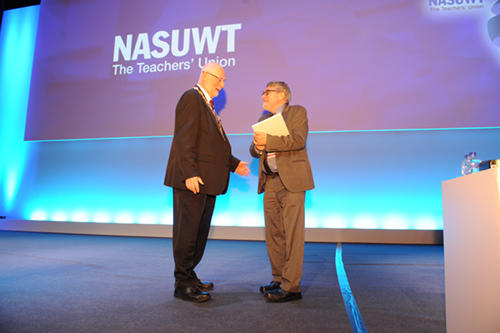 Vote of Thanks to Retiring President Fred Brown and Presentation of Souvenir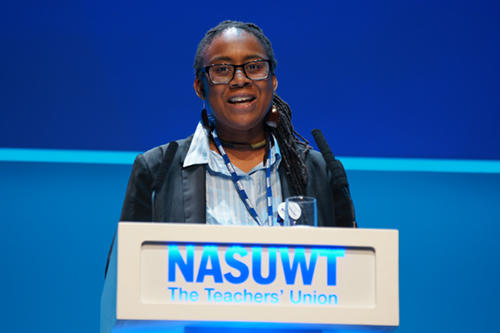 Michelle Codrington-Rogers joins Officers as Junior Vice-President for 2018/19