The opportunity to undertake a study trip to the USA has provided an NASUWT member with added inspiration to continue to challenge racism and encourage racial dialogue in schools.

Mélina Valdelièvre, 26, from Glasgow was the NASUWT recipient of the Walter Hines Page Scholarship, organised by the English-Speaking Union. The scholarships enable UK teaching professionals to travel to the USA to research and exchange educational ideas in the field of communication.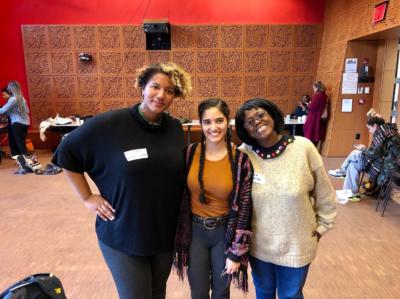 The focus of her study was to explore the role of communication for challenging racism in schools, the result of the obstacles which Mélina encountered when attempting to discuss issues of race and racism with friends, colleagues and pupils.

"As educators, we strive to equip our pupils as best we can with the tools to navigate this complicated world, but many of us still struggle to engage in difficult classroom conversations about race. Yet effective communication is arguably the most important tool for challenging racism on a regular basis."


Mélina's hope was that witnessing how some American schools discuss race would provide the inspiration for ways to create productive discourse in UK schools.

"Racial discourse in policy and in schools tends to be a re-active process, taking action only when something bad happens.

"Going to the US was the perfect opportunity to explore anti-racism and racial discourse as a proactive, creative process. The trip allowed me to envision a framework to nurture positive racial discourse with pupils."
Mélina focused her trip on New York, visiting a number of schools and organisations around the city which are taking progressive approaches to promoting racial equality and inclusivity.

From the interviews and discussions with the educators, pupils and parents she met, Mélina was able to identify four key conditions which are common to successful dialogue about race in schools-acknowledging the emotions which can arise when race and racism is discussed, being prepared to be vulnerable and open in discussions, building honest relationships between families, pupils and educators and ensuring schools and classrooms are safe spaces so issues of race can be discussed without fear.

She found plenty of inspiration on her travels to share when back in the UK: "Racialised minorities account for 14% of the overall British population and only 3% in Scotland specifically – much less than in the US" she said. "Therefore, some of the conditions for meaningful racial discourse – like diversity with multiple perspectives – can be quite challenging in the UK. However, solutions were offered notably through curriculum. Considering recent movements in the UK for a more diverse curriculum, through programmes like Black History Month, it is not impossible to pave a path for more, and better, racial discourse."

Since returning from America Mélina has been putting what she learned into practice in her working life: "I have since practised racial discourse more consciously amongst my peers and done my best to facilitate racial dialogue with my pupils in school. At times it proved to be fruitful and other times it was incomplete – naturally, it required more time to become productive. I equally shared with my school the possible measures we can take to encourage positive racial dialogue and promote inclusion; the discussions with senior management are ongoing."

She has also been sharing her findings with fellow trade unionists in the Scottish Trade Union Congress and hopes to undertake more work to advance the opportunities for productive dialogue on race through writing and working with teachers, pupils and the wider community.

"It has been an honour becoming a Walter Hines Page scholar and I am eternally grateful to the ESU and the NASUWT for sponsoring my trip, as well as all the people who helped me with my research in the US. I never imagined that two weeks in the USA could transform so drastically my own perception of racial dialogue and inspire me to pursue more vigorously my anti-racism quest in education."

Applications for the next Walter Hines Page Scholarship will be open to NASUWT members this summer and details on how to apply will be publicised to members.