School uniform policies are acting as an unofficial form of pupil selection, parents and carers have told the NASUWT, with costs becoming increasingly unaffordable for many families.

Parents and carers have told us that the cost of providing school uniform is being driven up by the introduction of detailed rules in many schools over uniform, many of which insist parents must buy some or all of their children's clothing from particular suppliers.

Some parents have suggested that the cost of uniform requirements are deterring or preventing families from sending their children to their school of choice.

As pupils return to school, the NASUWT has surveyed nearly 1,000 parents and carers on the costs of school uniform.
42% said they were required to purchase most items of uniform from the school itself or from particular suppliers, with 14% saying all of their children's uniforms had to be purchased this way. Restricting purchases to one supplier often means the items are more expensive.

Over a third (35%) said they were required to purchase most items of PE clothing from the school itself or from particular suppliers. 27% said they were required to purchase all of their children's PE clothing this way.
Nearly four in ten (38%) said they had spent between £101 and £200 per child on school uniform in the last year. Over a quarter (26%) said they had spent between £201 and £300.

Over a quarter (28%) of parents said they had spent between £26 and £50 per child on PE clothing and footwear in the last year, with nearly as many (24%) saying they had spent between £51 and £75 and 22% between £76 and £100.

Parents reported being required to purchase branded blazers at over £90, socks at £15 a pair, skirts at £57, hats at nearly £28 and jumpers at more than £20 each.

Parents reported entire uniforms being changed by schools, requirements to embroider initials on clothing, thus making items impossible to pass down to younger siblings and requirements to purchase multiple items of PE clothing and equipment for different sports, much of which was only used a few times.

Comments from parents included:
"My daughter's uniform is extortionate. Over £90 for a blazer that can only be dry cleaned and is unwearable after 18 months. Skirt was £57! None of the uniform can be bought 'on the high street'. Not even the socks! You should not have to think about the price of the school uniform when picking a school for your child."

"Some of the PE clothes are never used. I really objected to having to buy football boots for 12 lessons in total. All PE uniform has to have the school logo so it is really expensive."

"I notice some of the primary schools' uniforms include coats with school logos as well as bags. This is at enormous extra expense to families in lower income. A cynic would say this is to exclude/put off parents on lower incomes."

"The uniform changes in year 10, which means even if it fits, I need to replace it from what was worn in years 7-9 to a different colour."

"The cost of uniform is used as a form of selection in my town. The poor kids go to the school where you can by the entire uniform from Tesco for £10. The rich kids go to the school where just a PE t-shirt costs £13."

"It costs me well over £700 a year for my three children which is the cost of a week away. The price has drastically increased in recent years and I struggle massively with purchasing uniform."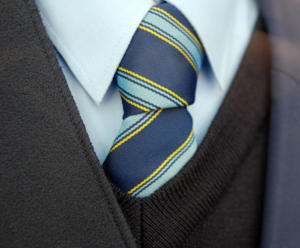 The NASUWT has been campaigning to highlight the costs of education for families and the need to 'poverty proof the school day' so that no child is excluded from participating fully in school life on the basis of cost.

The NASUWT believes schools must be sensitive of the costs for families when setting uniform requirements.

There are a number of simple steps schools can take such as ensuring parents have the option to buy uniform from high street and supermarket providers and keeping requirements for items to be branded with the school logo to a minimum.

Access to education should not be on the basis of families' ability to pay.