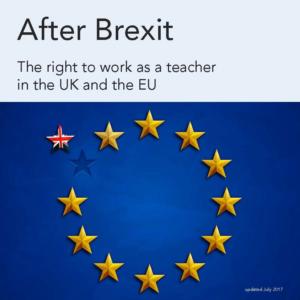 The NASUWT has learnt that many teachers from other EU countries working in the UK are increasingly concerned about Brexit uncertainty and others feel they are less welcome to live in the UK.

What will the UK leaving the EU mean for teachers' rights to work in another EU country and to rights including pay, working conditions and social security/welfare protections?

Following the 2016 European Union Membership Referendum and the subsequent triggering of Article 50 in March this year, the Government has confirmed there will be no change to these rights while the UK remains in the EU. The Government does, however, intend to implement a new scheme for EU citizens and their families after it leaves the EU.

To find out more about the NASUWT's concerns and priorities, download our advice document After Brexit - The right to work as a teacher in the UK and the EU above.
The right to live safely and without fear
Official analysis has shown record levels of reported 'hate crime' against individuals and families because of their nationality, ethnic background or religious belief since the 2016 EU Membership Referendum.

The NASUWT condemns any such behaviour and works locally, nationally and internationally to help secure conditions in which all teachers, pupils, families and communities can live, work and study safely and free from the fear of violence, intimidation and abuse.

The NASUWT is at the forefront of efforts to support the work of schools in promoting equality and celebrating the ethnic, cultural and religious diversity of our communities.*
The NASUWT continues to defend the rights of teachers, protect members from attacks on their professional status and terms and conditions, and is working to ensure that negotiations with the EU fully consider the implications for education and further ensure that future trade agreements protect workers' rights and deliver economic and social justice for all.

Members of the NASUWT have access to support at work, information and advice, and a voice in the workplace.
* The NASUWT is a founding member of the European Trade Union Confederation for Education (ETUCE) and Education International (EI) which represents 32 million teachers and educators in over 170 countries.