NASUWT at Durham Miners Gala
Hundreds of NASUWT members and their families joined crowds of more than 200,000 people at the 133rd Durham Miners Gala.
Led by the award-winning NASUWT Riverside Band, members were cheered and applauded by the public as they marched way through the city.
The Gala is held every July and is a celebration of mining heritage, brass bands, working class culture and trade unionism.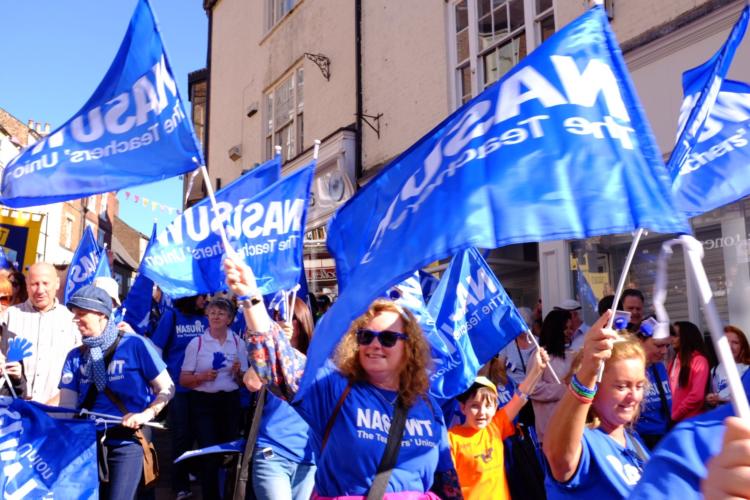 Blue NASUWT flags and banners from across the UK were in abundance as the group made their way down to the County Hotel, where the bands traditionally play in front of dignitaries.
The band had the guests on the balcony, including Labour leader Jeremy Corbyn and Shadow Education Secretary Angela Raynor, singing to a brilliant rendition of "Delilah" before making their way to the Racecourse.
NASUWT President Fred Brown said the union was proud to be a strong supporter of the Gala, or Big Meeting as it is known, which is seeing more and more members joining each year.
He said: "The Gala is very important it is one of the biggest trade union events in Europe, if not the world and we are very proud to be supporters of the Gala.
"Many of our members from the North East and the North of England come from mining families.
"We are all trade unionists and we are fighting for the rights and the conditions of service and the pay of our members.
"We are very proud to be part of this and to support the Durham Miners Gala."
The evening before the Gala, Ms Raynor spoke to NASUWT members at an event organised by the NASUWT in Durham.
She told them: "Thankyou for all the work you do, you do a tremendous job. We will keep fighting to make sure you get the pay you deserve and that you get respected in your job."
@NASUWT President @FredBrownNASUWT explains the importance of the Durham Miners Gala. If you haven't been before come in 2018! #Bigmeeting pic.twitter.com/xuEXRiBdV5

— NASUWT (@NASUWT) July 8, 2017
NASUWT President Fred Brown