The NASUWT showed its solidarity with the Zimbabwean people, joining other unions taking part in a protest in central London.
The protest was in response to the turmoil in the country which has seen hundreds of thousands of people protesting against the dire economic situation.
In response the government has implemented a violent crackdown, cutting off the internet and beating and jailing protestors.
The head of the Zimbabwe Congress of Trade Unions (ZCTU) secretary general, Japhet Moyo has been jailed on spurious charges, connected with leading the protests, sparked by the steep rise in fuel, rampant inflation and stagnant wages.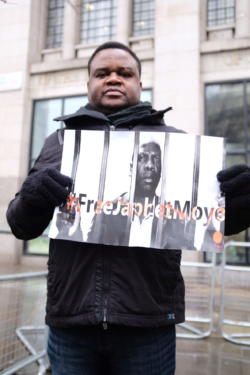 The NASUWT joined colleagues from Unison, the TUC, Amnesty and Action for Southern Africa at the demonstration outside the Zimbabwean Embassy off the Strand in London.
A number of the demonstrators have family in Zimbabwe and spoke of the situation facing their relatives.
One of them, Thomas who is from Zimbabwe, explained why he was taking part in the protest: "I am here to fight for human rights in Zimbabwe.
"At the end of the day we need free and fair elections in Zimbabwe. That is not happening at the moment so we need to get people together and rally against that.
"I am really worried about what is happening now and I worry for my family in Zimbabwe. They are all scared. A lot of them are staying indoors in Harare it is quite worrying times at the moment.
"The wider community in Britain need to come together and try to sort something out because the situation is getting much, much worse in Zimbabwe."
Thomas echoed concerns of the NASUWT's colleagues in Zimbabwe, the Progressive Teachers of Zimbabwe (PTUZ) who have said teachers and other public sector workers are now being paid in government bonds, the value of which has fallen dramatically, meaning they are getting paid the equivalent of just one hundred US dollars a month.
He said: "That is just not right and unfair. They do a fantastic job. In Zimbabwe a lot of the population are very well educated and if you are not paying teachers enough to do their work then something is not right."