Lily Robinson works in supply in schools in South Yorkshire. She gave an interview to the NASUWT about supporting children and young people and her experience of the help and support we offer.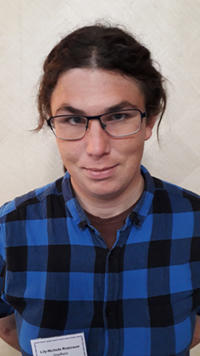 Why did you join NASUWT?
During my first year on my BSc Honours with Mathematics and Education degree I went to the Trans Youth Conference with the Proud Trust and the theme of the event was education, particularly how trans youths feel in their ability to access education in an equal manner to everyone else. NASUWT had a stall there and I mentioned that I was training to become a Mathematics teacher at the time and the colleague who was their suggested I sign up to the union as a student teacher.
What does being a member of NASUWT mean to you?
To be honest, this isn't something I think about too often but I guess it would be the solidarity. I mean as a union NASUWT is a great vessel for change and being able to be a part of that is great. Even if it is something as simple as attending the conferences, getting free CPD, etc, there always a way to feed back into the union and push for that positive change you wish to see within the profession of teaching. And I think being in the NASUWT gives a much stronger voice to us as teachers, as when we stand together schools and government are more likely to listen to what we have to say than when we are stood alone.
What is the best thing about the NASUWT events you have attended and why?
Up until this year I had only really ever gone to the union's LGBTI Consultation Conference but I generally love the opportunity to network with other teachers. I mean I am relatively new to the profession and I am also taking a less than conventional path to my final career destination. It's pretty great to be able to talk to others within the profession of education and get advice and suggestions on how to further my career from those who have more experience than myself. And the union has been a way for me to meet people who I otherwise wouldn't normally meet.

And in addition, I think the consultation conferences the union provides for minority groups is amazing, it gives you the opportunity to meet people in a similar situation to yourself and share experiences. You don't feel as isolated and alone with the union there. Especially with these consultation conferences.
How does NASUWT help you as a supply teacher in particular?
When I went to the LGBTI Consultation Conference this year the union backed The Supply Register was there doing a little side stall. I had heard of them before and actually already had a job interview with the agency, but it gave me the opportunity to get a better idea of the company and also it was reassuring to hear why the NASUWT was backing it. I mean I feel the most important thing for supply teachers and schools right now, is a for a more ethical model for providing supply and TSR...is a good first step in the right direction.
I am glad to see the union is looking into ways to push for a more ethical model when it comes to supply.
How long have you been a supply teacher?
Well I'm actually a Cover Supervisor. I was initially training to become a Mathematics teacher but realised it wasn't the career path for me. I've worked in the sector of education since 2015 though and have been a Cover Supervisor since January 2018.
How long have you worked in supply?
I have been working supply since January 2018.
Why did you go into supply?
When I first started supply I was still in university studying my second year of BSc Mathematics with Education at Sheffield Hallam. The previous year I had realised I didn't want to go into teaching so dropped the QTS part of the course and due to health issues the previous year this was my second attempt at second year. I was placed on a part-time mode of study on a full-time course and I knew I was quite interested in doing pastoral work in schools but had been advised via networking with local schools that this job requires a lot of experience.
So I decided to use my free time outside of university gaining relevant experience. Unfortunately many schools in my area kept most volunteer positions they had for students training to become teachers, and the one school that was willing to take me on as a volunteer in their Pastoral department had issues with it academy trust desolving so that fell through. I then saw via my university career page there was an agency looking for Cover Supervisors, while it wasn't exactly the job I wanted to do I figured it could get me some experience working in the school environment. Largely I entered supply as a stepping stone in my career.
What subject area and age group do you teach?
As my degree suggests, my specialisation is Mathematics and generally I try and stick to secondary schools. Being a Cover Supervisor though, I can of course be asked to cover any subject but the furthest I have been from my specialism so far was covering a physics lesson. Due to the overlap in maths and science this wasn't all that challenging for me.
Has NASUWT been able to help you with any issues you may have had with your supply agency? If so could you explain?
I've been quite fortunate so far not to encounter any issues, but it is always nice knowing NASUWT is there if need be. I also tend to go to a few NASUWT conferences and training sessions which I always find useful and enjoy the opportunity to network with other people in the education profession.
What are your views on the levels of pay supply teachers get?
Through networking with others who work on supply via agencies and who are qualified teachers, I do think what agencies pay qualified teachers is quite appalling when they have gone through university and PGCEs, etc to get to where they are and yet only getting a fraction of the pay those who work direct for schools get.

Another issue I hear raised quite often, is qualified teachers being pressured into taking on Cover Supervisor roles which further cuts into the amount of pay they get, meanwhile schools in effect along with the help of agencies get in effect a teacher on the cheap. Adding to all of this, the fact supply agencies don't offer guaranteed work, it can place people in real financial strain when they are on a lower pay then their fellow colleagues and can also be left going weeks without work. Not to mention periods such as the Summer holidays where you have 6 weeks straight with no work from schools.
What has been your best and worst experience with a supply agency?
In all honesty, I have yet to have a bad experience with the agencies themselves but I have quite often been sent into schools where lessons have been very ill prepared.

On the flip side though, one of the agencies I work supply for has been sending me repeatedly to a school where I am often placed in the role of a TA and work closely with SEN students. The school is well organised and keeps me very up to date on what I am required to do each day. Plus as I have said I would one day like a role in pastoral care and this is very beneficial experience for the future. It is also nice being sent back to the same school, where I can start to integrate a bit more into their community.
What do you love about teaching?
Honestly, the large reason I wanted to go into education is to help and support students, so any opportunity I get to do this, that is what I love the most.