Introduction
Since the beginning of the coronavirus pandemic, the NASUWT has been very clear that the Government needs to meet the costs borne by schools to manage its impact. It is now becoming increasingly clear that the Government's coronavirus education funding policy is wholly inadequate and that the Government is placing demands on schools, academy trusts and local authorities (LAs) which they will find increasingly difficult to meet within their allocated budgets.

This briefing has been developed to support Negotiating Associations and Federation and National Executive Members in England when lobbying LA-elected members and MPs over school and wider education funding.

The following FAQs cover the key school funding issues which Negotiating Association and Federation activists will wish to address with local and national politicians. This briefing also outlines the key issues which NASUWT activists will wish to raise with local politicians.
What are the key NASUWT concerns about the Government's approach to funding the costs of the coronavirus pandemic in schools?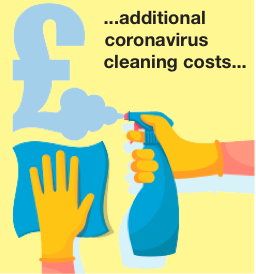 When schools first partially closed in March 2020, the Department for Education (DfE) announced a policy for funding additional coronavirus costs in schools from March through to July 2020.

However, schools could only claim for three restricted categories of coronavirus cost which the DfE had pre-agreed. Details, including the link to the DfE's updated information about the categories of expenditure for which schools can claim, are available on our Additional Coronavirus Costs page.

The three categories for which schools could claim were:
increased premises-related costs;
free school meals (FSM) costs where these were not covered by the Government's national voucher scheme; and
additional coronavirus cleaning costs.
However, it soon became clear that, even within these categories, the costs for which schools could claim were being unnecessarily restricted.

For example, schools could claim for additional coronavirus cleaning costs if there was a coronavirus outbreak, but could not claim for additional cleaning costs to prevent an outbreak. Moreover, the FSM costs for which schools could claim have been lower than the actual expenditure which LAs and academy trusts have incurred in supplying school meals.

However, even this policy of allowing schools to claim for restricted coronavirus costs from March through to July 2020 was ended for the 2020/21 school year. The DfE is not accepting any claims from schools for additional coronavirus expenditure for the current school year, stating that schools have to meet these costs entirely from their allocated 2020/21 budgets. The reasons the NASUWT considers this policy to be completely unacceptable are set out below.
How many additional coronavirus claims have schools made for the 2020/21 school year and how much has the DfE paid out?
The DfE has revealed the following information about schools' claims for 2020/21. The details of schools' claims from March to July 2020 are: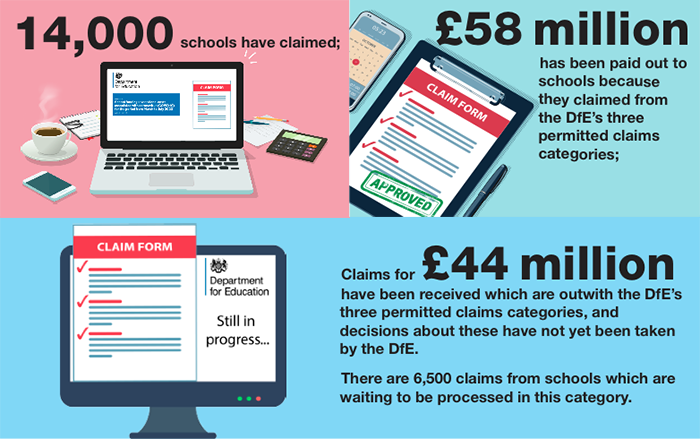 The DfE has informed the NASUWT that it has paid out on all of the claims which fall within the three pre- approved categories of coronavirus cost, but have not paid out on any of the claims which do not fall within these categories, as every school is awaiting a decision about whether the claims are to be paid or not.

This means that 6,500 schools have made claims for additional coronavirus cost funding from March to July 2020 that have not yet been paid by the DfE and that may never be paid by the DfE. Given that these claims amount to less than 0.01% of the 2020/21 schools budget, the NASUWT believes that these claims are affordable by the Government and should be paid.
What are the additional coronavirus costs which schools are having to meet during 2020/21?
Schools are having to meet substantial additional costs to control the spread of coronavirus at school level. This includes the cost of:
In addition, the costs of covering teachers who become ill with coronavirus or who have to self-isolate or shield is generally becoming much higher than schools have budgeted for. This is compounded by the inadequacy of the national test-and-trace system with both staff and pupils having to wait a long time for tests.
What is the impact of the Government failing to fund schools' additional coronavirus costs for the 2020/21 school year?
The DfE requires academy trusts to set three-year budgets which balance and many LAs also require their maintained schools to do this. Many academy trusts and maintained schools will not be able to remain within the budgets they have set. Whilst this does not necessarily mean that redundancies will be the preferred solution for these schools, deficit budgets are one of the most common reasons given for redundancies.

If schools decide to make support staff redundant, this inevitably has an impact on teachers' workload, particularly in the context of a need for additional support staffing to manage coronavirus controls, often in respect of the supervision of pupils.

The Government's failure to fund coronavirus costs will inevitably provide unscrupulous employers with a rationale for failing to pay the 2020/21 annual pay award to teachers.
What is happening with LA high needs budgets?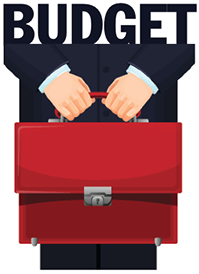 The Government claimed in September 2019 that it was increasing LA high needs budgets by up to 17%. However, since this announcement, it has become increasingly clear that the additional funding for high needs has had to be used by many LAs to plug historic deficits in their dedicated schools grant (DSG) allocations from the DfE, which have arisen because of the inadequacy of high needs funding in 2018/19 and 2019/20.

In many LAs, the high needs budget is insufficient to meet the cost of Education, Health and Care (EHC) plans for children and young people, particularly if LA provision has been decimated by a decade of cuts so that LAs are obliged to meet the cost of expensive out-of-authority and private sector provision.

The additional high needs funding which many LAs have received has therefore not been used to deliver high needs provision at all. Moreover, some LAs stand very little chance of using high needs funding on delivering high needs provision whilst they are obliged to clear their historic DSG overspends by the DfE.
What is the NASUWT demanding from the Government?
In July 2020, the General Secretary, Dr Patrick Roach, wrote to the Chief Secretary to the Treasury to demand that the Treasury should fund the costs for schools of meeting the DfE's requirements for schools reopening in September. The correspondence is available on our Covid-19 Autumn Term (England) page under 'General Secretary Corerspondence With Goverment'.

The NASUWT is demanding that the Government increases the three-year schools settlement which was announced in September 2019 by the Chancellor of the Exchequer. Unlike most Government departments, health and education received a three-year settlement from 2020 through to 2023. However, this was pre- covid and the settlement does not take into account the costs of managing the coronavirus pandemic.

The NASUWT is calling on the Government to increase the schools settlement from 2020 through to 2023 to ensure that schools are funded adequately for the costs of controlling the coronavirus. Consultation with the NASUWT, and other education stakeholders, should take place over the necessary level of increase in the schools settlement.

The DfE must ensure that additional high needs spending which LAs receive is genuinely used to fund high needs provision, including by ceasing to demand that LAs use the funding to clear their historic DSG overspend.

The national education (non-schools) budget was only confirmed for 2020/21 in September 2019 and the settlement through to 2023 is subject to the Government's current Comprehensive Spending Review consultation. The NASUWT is calling for a substantial above-inflation increase in the non-schools budget.

Vital services for schools and for children and young people are met from the non-schools budget. If LAs were unable to provide these services, it would fall to schools, and potentially teachers, to provide them.

In addition to the schools and education non-schools budget, it is vital that the Comprehensive Spending Review provides additional funding for children and young people's social and health care needs in light of the coronavirus pandemic. For example, Child and Adolescent Mental Health Services (CAMHS) saw funding savagely cut before the coronavirus pandemic and were unable to meet levels of demand – it is now vital that spending on services provided by CAMHS is massively increased.
Actions for Negotiating Associations and Federations
Negotiating Associations and Federations are advised to lobby MPs and Lead and Shadow Cabinet Members over supporting the NASUWT's call for increased government funding for schools and LAs to meet the costs arising from the coronavirus pandemic.

Details of LA schools and high needs block allocations are available on the DfE's National funding formula tables page. Data is available in the DfE tables of schools block, high needs block and central school services block funding for each LA.

Questions that NASUWT activists can consider putting to local politicians are:
Do you consider that schools should be as covid-secure as possible, particularly as it is becoming increasingly clear that the Government intends to keep schools open at all costs as the number of covid-19 infections increase?
Given that the three-year schools settlement (2020-23) was announced by the Government in September 2019, before the coronavirus pandemic began, do you support schools receiving additional funding to ensure that they are as safe as possible?
Do you believe that local authorities should receive additional funding to meet the increased cost of supporting their schools through the coronavirus pandemic?
Do you support the view that all high needs funding that local authorities receive should be used to deliver high needs provision?
Do you believe that mental health services for children and young people should receive additional funding in light of the impact of the coronavirus pandemic on children and young people?